RTO Pro for Windows XP through Windows 10 and Windows Server 2008 through 2016 (32 and 64 bit)
Point of Sale software for Rent to Own, Rental, Retail, Barn and Shed Rental. Prices starting at only $899.00 or Lease for $75.00 a month. Click here for a complete feature list. Click here for a complete price list.
Attention shed rental and storage barn building companies RTO Pro is perfect to add rent to own revenue to your bottom line. About 20% of our customers are in the shed/barn rental business and RTO Pro has many features designed specifically for this industry.
RTO Pro is a complete Point of Sale software program for Rent to Own (RTO) and Retail stores. RTO Pro was the first commercially available, 32bit Windows based software package (Windows 95/NT) for the Rent to Own industry (100% Windows since 1995). The latest version of RTO Pro is designed for Windows Server 2008, 2012 and 2016, Windows XP, Vista, 7, 8 and 10. RTO Pro works with the 32bit and 64bit versions of Windows. RTO Pro is "Cloud Ready".
RTO Pro and the RTO Pro Corporate Office System are designed for use by single store operators to multi-store operations of 100+ ; there are more than 20 Rent-To-Own multi-store companies that currently use RTO Pro in 10 or more locations.
RTO Pro is the only software for the rent to own industry that has developed their own fully integrated, fully PCI compliant web payment system (click here for more details). Since this is our system entirely there is no 3rd party you have to get set up with for the webpay system and no additional fees to pay to a 3rd party. This allows you to take online payments 24/7 by credit card or ACH with $0.00 monthly charges, $0.00 set up charges and only $0.50 per payment charge(the .50 is the webpay charge this is in addition to the normal credit card or ACH fees you always pay when accepting payments by credit card or ACH) .
RTO Pro comes with a utility to make it easy to load existing contracts and their payment history. This utility is included with RTO Pro for FREE! We also offer DATA CONVERSION service from most other software.
We now offer a leasing plan, which for only $75.00 per month, includes unlimited support and upgrades. For a complete price list, click here.

RTO Pro is developed entirely in the USA, we do not outsource.
Bookmark this on Delicious
Below is a list of some new features recently added to RTO Pro.
SMS Texting Service, allows you to send and receive SMS text messages through RTO Pro
RTO Pro Central Server Edition, allows you to run multiple companies or multiple locations from a single central server computer
New Online Payment interface WebPay, allows your customers to pay payments online. Click here for more info.
Take customer applications on your website and automatically import into RTO Pro as a pending application. With the new RTO Pro Web Services Applications portal it is even easier to accept applications from your website, with no programming required, all you have to do is add a link on your website to the applications portal we build for you.
Companywide payment ability for multi-store chains, customers can pay payments for any of your locations from any of your locations.
Print Bank Deposit Slips. When you run the End of Day you can set up RTO Pro to print your bank deposit slip for you, complete with check information.
Complete Inventory Purchase Order System at corporate and store level.
Automated Inventory Transfers by Internet Web Services or FTP.
Companywide Master Inventory Lookup gives stores the ability to check companywide stock inventory to find what their customers are looking for. Click here to see a demo of how this works.
Integrated Credit and Debit card processing now included for free.
Integrated ACH payments allows your customers to pay by electronic draft from checking or savings accounts.
Automatic Recurring Payments (AutoPay) available for credit card or ACH payments.
Automatically email receipts to customers when they pay payments.
Automated Voice Collections and Promotions module now available. The Automated Collections Module will call your overdue customers or all customers and play pre-recorded messages.
Full Featured Calendar / Scheduler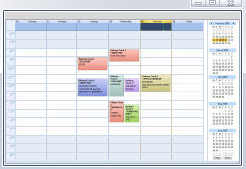 RTO Pro has an integrated, full featured calendar for scheduling deliveries, pickups, and service calls.
RTO Pro supports destination based sales tax which is required in many states now.
RTO Pro has an integrated Time Clock.
RTO Pro integrates with QuickBooks, Quicken and other popular accounting software.
Internet features: Email letters and invoices, send corporate office files via the internet.
"Document Imaging". This feature ialows you to scan and store drivers license and other documents and attach them to customers records.
The RTO Pro Cloud Automated Collection Module (ACM) is a program available to use with RTO Pro. The ACM is a Cloud Based Voice Broadcast Automated Dialer system that will call your overdue customers or any customers due in any given date range you enter and play pre-recorded messages. It also has built in message recording and management so you can record any number of messages and play different messages for different due date ranges and also optionally a different message for broken commitments. You can also use it for marketing and promotions and set it to call customers who are not overdue or even all customers in your database. The ACM can also be set to run automatically on a schedule completely unattended. When automated it will start at the designated time, create a new call list from a saved template and then start calling, all without any end user interaction.
The only requirement to use the RTO Pro Cloud ACM is internet access, it does not use your phone lines so no modem or additional hardware or phone lines would need to be installed.
You can record messages with any computer with a sound card with a microphone input.
The Automated Collection Module can also be used to send Text Messages if you have a text message account with RTO Pro. For more info about RTO Pro Text messaging click here.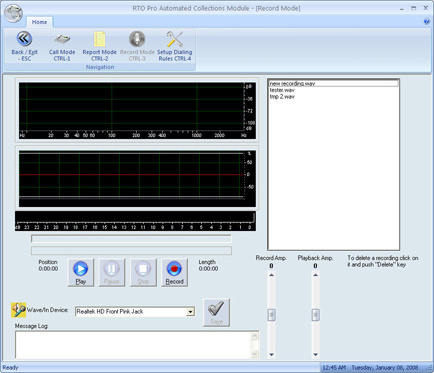 This program will save you lots of time and money by calling and/or texting your overdue customers for you. ACM will run completely unattended once started. It can also be set up to run completely automated on any schedule by setting up a windows task, which can be done easily in the ACM setup page.
The Cloud Automated Collections Service is available now for $30.00 for the first 600 minutes and .05 per minute after 600.
The ACM can be used for:

Collections

Promotions

Marketing Calls

Lead Generation

Voice Broadcasting

Text Messaging
Not a RTO Pro user? The RTO Pro ACM can be set up to import data from just about any data source and call customers from any software you may be using.
For more information call 800-351-6299.
Click here for more details about the RTO Pro Automated Collections Module.
There are over 1200 stores throughout the US and Canada currently using RTO Pro. Below is a map showing some of the locations. References are available upon request.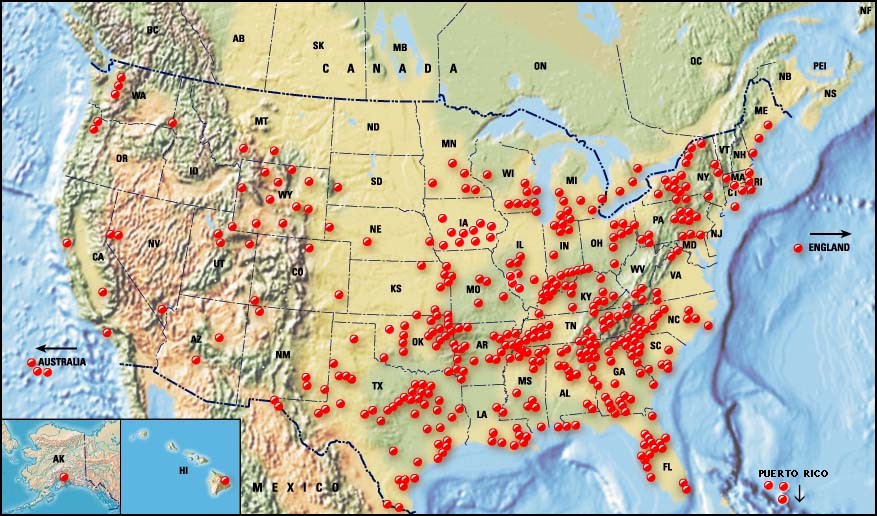 We are proud to be affiliated with the following organizations.

Associate member of
Association of Progressive Rental Organizations
www.rtohq.org
---

RTO Pro is an Approved Vendor for
National Barn and Storage Rental Association
www.nbsra.com
---

DataTrue Verification Reports are integrated in RTO Pro. For more info about DataTrue visit www.datatrue.net or call 406-702-1201
---
Approved Vendor of RentDirect Nationwide

---

RTO Pro is compatible with InForm Business System's "Digital Rental Agreements". For a small annual fee Inform provides a digital image of the InForm Trademarked Rent To Own Rental Agreement for your state and InForm will maintain and update that agreement should any changes be made to the legislated requirements of this rental agreement which affects its content requirement. Visit www.rtoforms.com or call 888-786-3676 to find out more about this valuable service.
---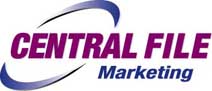 Central File, Inc. Your source for - Complete Direct Mail Marketing! Can be reached at: (800) 749-6245 or online at www.centralfileinc.com. E-mail them at dan.costello@centralfileinc.com. RTO Pro can create mail lists for Central File.
---

Benefit Marketing Solutions is a leading provider of the most distinctive and innovative membership programs available. Our programs create a win/win for your company as well as the customers you serve. They build profit and growth without risk while encouraging loyalty and repeat business. Our Best Bar None product and service pledge assures that you'll have the best products backed by exceptional service.
To learn more about what Benefit Marketing Solutions can do for you and your customer, please call David Kaye or Susan Matthews at 888-322-6705. Feel free to visit our website at: http://www.benefitmarketingsolutions.com
---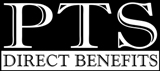 PTS Direct Benefits is an Exclusive Member Benefits Plan providing added value to customers in the Rent-to-Own Industry. Benefits include Extended Warranty, Free Debit MasterCard, Product Replacement & Theft Benefit, 10% on AT&T Wireless Bill, Rental Car Discounts, Payment Deferral Plans and much more. The program is not only beneficial to the customer, but offers generous revenue sharing with the stores offering the Club. Click Here for more info