Saving a Customer's ACH Information, ACH Autopay, and Customer Authorization
How to save ACH info:
Access a customer's "Credit Card/ACH Info" tab, found in the toolbar of the Payment screen or Customer Inquiry screen, or alternatively in the Customer Maintenance screen. Here you will find the form in which you may enter credit card and ACH info, as seen below.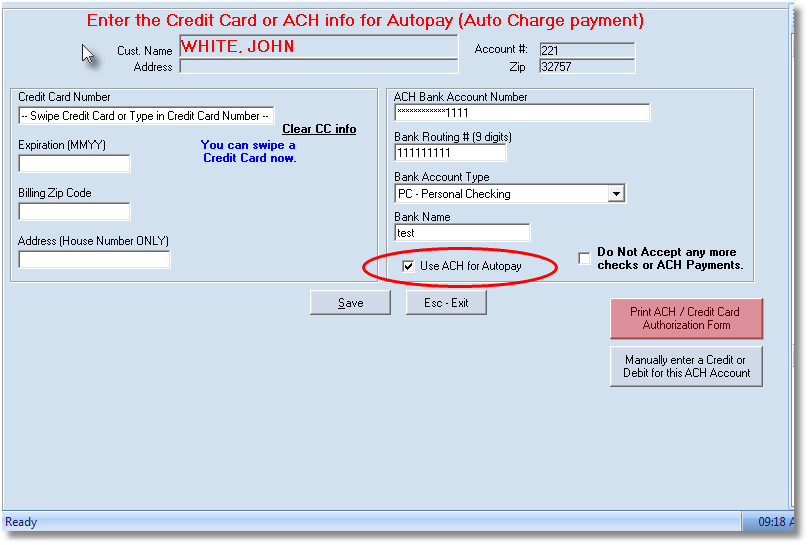 Enabling ACH Autopay:
If the customer wishes to be automatically charged through ACH, make sure you check the "Use ACH for Autopay" check box, shown in the circled area above. If you do not check this box, all Autopay transactions will be charged to the credit card on file. Please note the agreement to be paid by Autopay also must be flagged for Autopay (under contract maintenance or at time of contract load).
Printing Authorization Form:
You will need a signature or some other form of authorization from the customer before using the Autopay feature. You may print a generic ACH/Credit Card authorization form by clicking the button highlighted in red (shown in screenshot above). Please note when you print an authorization form from this page no agreement or payment info will be printed, to print an authorization form for a specific agreement see the next paragraph.
Additionally, you may print this form when viewing Contract Info as shown below. (F8 from the Payment Screen, select contract, select "Print ACH Auth" from toolbar). This will print out an authorization form specific to this contract. Learn more about Autopay here.