Note: These are directions for adding a workstation or client computer to a Network version of RTO Pro, these instructions are for a peer to peer network.
1. Install RTO Pro on the new workstation with the newest CD you have.
2. Run RTO Pro, it should go to a screen that gives you demo options. The bottom button says "Register RTO Pro with your registration information", click on that button. If you go into RTO Pro and it does not display these options, go to setup > Store Setup and then click on Register on the bottom right.
3. Enter your store name and registration #, MAKE SURE YOU USE THE SAME NAME AND REGISTRATION NUMBER AS ON YOUR OTHER NETWORK COMPUTERS. To get this information go into RTO Pro on one of the other network computers, from the Main Menu (Where it says Main Menu in red), click on the Help button: (on the top right of the screen) then > "About RTO Pro". See image below. Your registration name and number will be displayed on the "About RTO Pro" screen.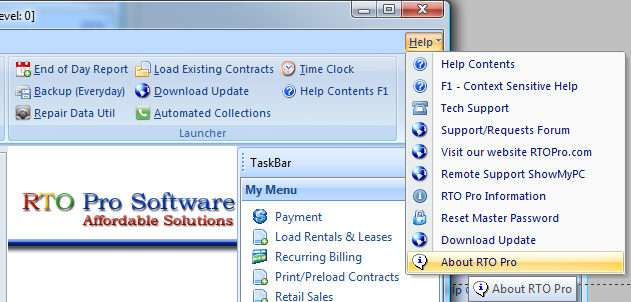 4. After registering it will ask if you want to delete data that is in the local directory, answer YES. It will ask if you want to create a database on this computer, answer NO.
5. It will then prompt to restart RTO Pro. When you go back into RTO Pro it will prompt for the network path. You can either click on search and browse to find the data directory or you can type it in from the datapath form from one of the other workstation computers.
To browse through the network to setup the data path do the following:
1. Click on the Search button when the screen below is displayed: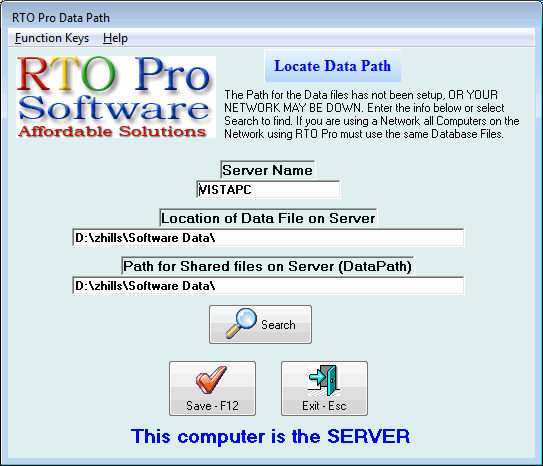 2. When it asks is this computer the server answer NO.
3. Browse to Network, as shown below:
4. Double click on the name of your server computer, then double click on the share that is setup for RTO Pro, usually "RTOwin". Then look for the "Path.dat" (Note on your system you may only see "path") file and double click on it, then hit F12 to save the settings.
After setting up the path to the server if you get a message "Unable to connect to server computer" or something similar when you run RTO Pro you need to configure your firewall on the server computer. See the topic here for instructions on how to configure a firewall.