The Phone dialer will automatically dial customer phone numbers from the On Screen Account Manager. The dialer can be setup for 10 digit dialing in areas where it is required. In order to use the dialer you must have a modem in your computer that is hooked up to a phone line that you also have a phone hooked up to.
What the dialer does is dial a selected phone number for you, all you have to do is pick up the phone after it dials.
Below is a sample of the main screen.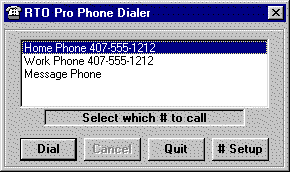 To setup dialing options click on the "# Setup" button, this will bring up the screen below.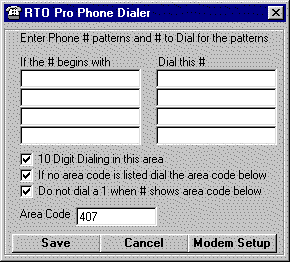 The section that says "If the # begins with Dial this #" is for customers that have 800 # pagers with pin numbers. For example, if you have customer with an 800 # of 800-533-2112 with different pin #'s you could enter all these customers as 100-3030, 100-3035, etc. for the phone number, the last 4 digits being the pin #'s. Then in the box "If the # begins with" put "100", and in the "Dial this #" box put 1-800-533-2112.
10 Digit Dialing
To enable 10 digit dialing features check the "10 Digit Dialing in this area" check box. You then can enter your area code and select which options you want to use.
The best plan would be to check the top 2 box's and enter all local call numbers in the customer records with the 7 digits only without the area code. This way local calls will be dialed with the area code but without a 1. Toll calls within your area code you would enter in the customer records with the area code and thus they would be dialed with a 1 in front of the number.
If you have customers' records already entered with the area code for local calls you can check the 3rd box also, however for toll calls within your area code these calls will not go through as they require you to dial a 1.