We no longer sell Epson printers as of 3-2007. These directions have not been updated since then. If you need further assistance with Epson printers you can find their contact info on their website http://pos.epson.com.
To install drivers for Epson receipt printers follow the steps below.
1.Insert your RTO Pro CD, either an original install CD or an Update CD. After inserting the CD the CD menu like below will come up. (Note: RTO Pro Update CD's after 3-2007 will no longer have Epson drivers)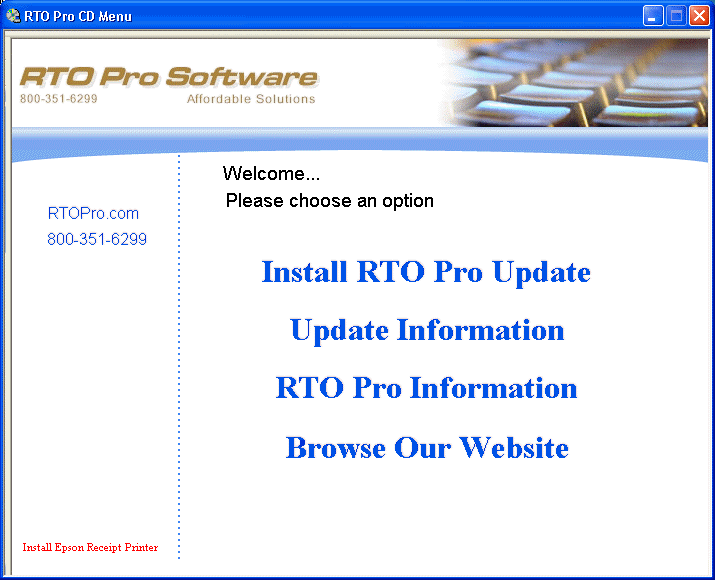 2. Click on "Install Epson Receipt Printer" in the lower left of the menu. The screen below will come up next.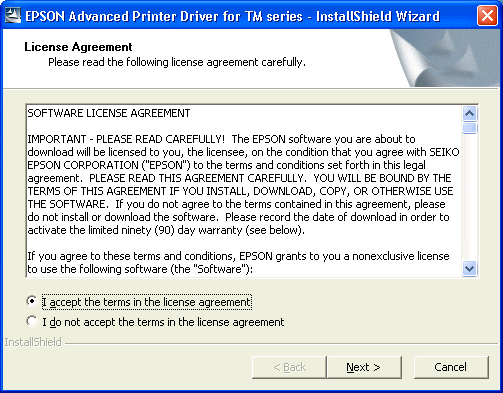 3. Click on "I accept the terms in the license agreement" and then click Next.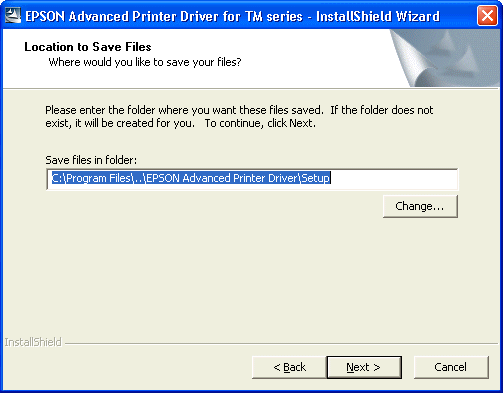 4. Just click next on this screen.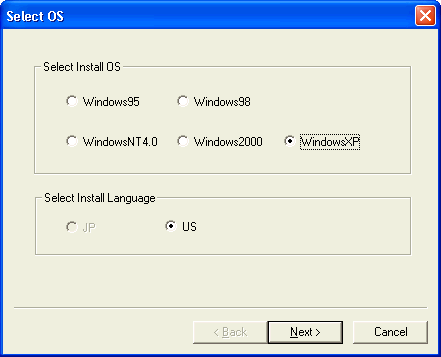 5. Your operating system and language should be selected automatically, click next to continue.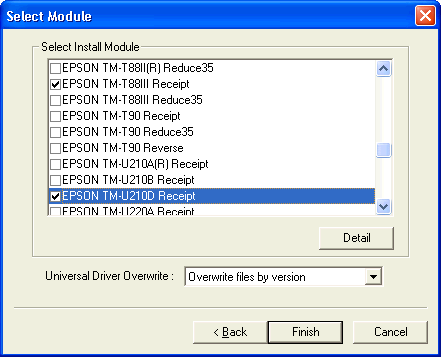 6. On this screen check either the "Epson TM-T88III Receipt", "Epson TM-U210D Receipt" or "Epson TM-U220D Receipt" depending on which model you have.
7. After selecting the correct printer, click on the "Detail" button.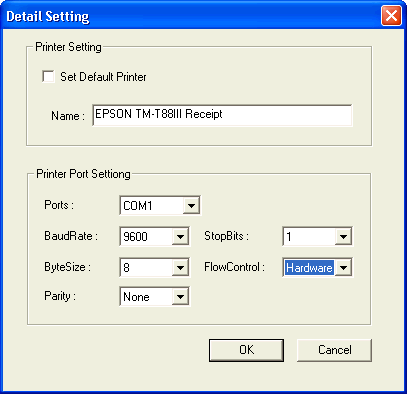 8. If your printer is a serial model set the port to "Com1"and change Flow control to "Hardware". If your printer is a parallel model set ports to "LPT1". Click OK to continue. Then click Finish. You will have to restart your computer. After restarting follow the directions below.
9. Go into RTO Pro, go to Setup > Printer Setup and click on the "Receipts" tab.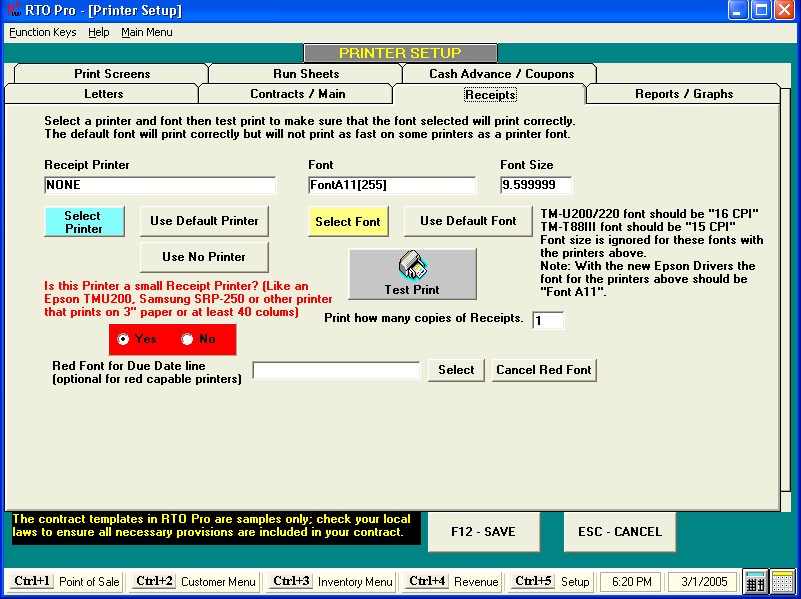 10. Click on "Select Printer" and select the Epson printer you just installed.
11. Click on "Select Font" and choose "FontA11".
12. Where it asks "Is this printer a small receipt printer?" Select YES.
13. Click on "Test Print" and it should print a test page.
If your printer is an Epson TM-T88 or another model with an autocutter follow the directions below to enable cutting.
1. Go to Control Panel > Printers and go into the properties of the Epson printer (Right click on it and click on Properties).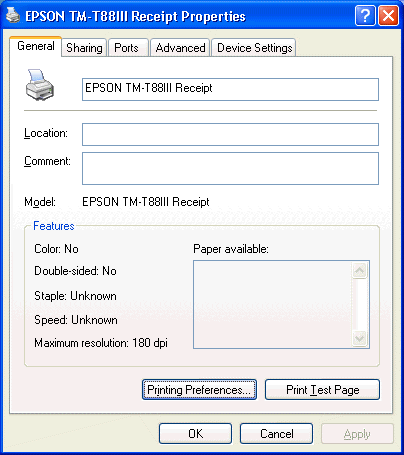 2. Click on the "Printing Preferences" button.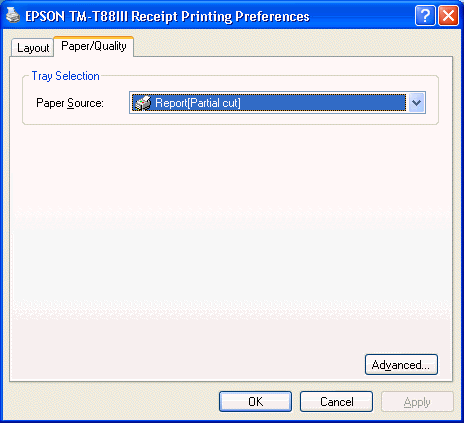 3.Click on the "Paper/Quality" tab.
4.Set "Paper Source" to "Report(Partial cut)"
5.Click OK 3 times.
*******End of directions for installing new Epson Drivers********************
Below are directions for installing the old drivers for Epson Receipt printers. The new drivers should be used whenever possible.
Note: You will probably need your Windows 95 setup CD or disks to complete this process. The Epson and Samsung printer drivers are supplied by FutureWare Enterprises, Inc. they are on the RTO Pro CD-ROM.
1.Hook up the printer to your computer. Note: If you purchased the serial model printer and did not purchase the cable from us, you must hook it up to your computer using either a NULL MODEM CABLE or A regular cable with a NULL MODEM ADAPTER.
2.Insert the disk or CD with the printer driver on it, then click on the Windows 95 Start button, then move the mouse to Settings, then click on Printers.
3.Double click on the Add Printer Icon.
4.When you get to where it asks for the printer manufacturer, click on Have Disk.
5.If you got the printer driver on a 3.5" disk, see A. below, If you got the drivers on CD ROM see B. below. Then continue to #6.
6.Click the OK button again. From the list of printers select the model of the printer you purchased. Note: for the Epson TM-U200, choose the Epson TM-U210 model driver. This driver will allow red printing.
7.Select the Port which it is connected to (probably COM2).
8.Click on Configure Port. Make sure the following settings are set. Bits per Second: 9600, Data bits: 8, Parity: None, Stop bits: 1, Flow control: Hardware. Then click OK.
9.Click Next twice then click Finish. A test page should print, if it does not recheck the port settings and the cable connection.
A: Below where it says "Copy Manufacturer's files from" type the following: A:\ then click browse. Then double click the correct directory for your operating system. (Win95) for Windows 95. Then click OK.
B: Below where it says "Copy Manufacturer's files from" type the following: D:\ (id D is not your CD Rom drive replace it with the correct letter) then click browse. Then double click the "Epson" or "Samsung" directory, then double click the correct directory for your operating system. (Win95) for Windows 95. (Note for Windows XP choose the Win2000 folder)Then click OK.
After installing this printer remember to check yes at the bottom of the Receipts tab in Printer Setup in RTO Pro that this is a small receipt printer, so the receipts will be formatted right.
Note: A common problem after setting up the Epson printer is long receipts getting cut off. This is caused by the flow control on the port being set to Xon/Xoff instead of Hardware.
To correct this do the following:
Click on Start > Settings > Printers
Click on the Epson Printer then click File > Properties
Click on the Details Tab then click on Port Settings
Change the Flow Control to "Hardware"
Click OK and OK
This will correct the problem.