Watch a demo video on our website on using the OSAM.
The On Screen Account Manager (OSAM) is an alternative to running a late list everyday to call and run late customers. This is an easier way for the account manager to work the overdue accounts.
The first time you go into this on any day you will be told that there is not a file for today and you will be asked if you want to create one. If you select NO the previous day's file will be used, if one is present. You will be working from this list until the next day or until you force a new OSAM file. To create a new OSAM file, from the Customer Menu, click Help > Force New OSAM File.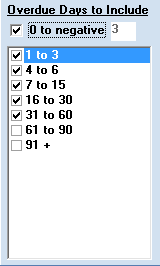 After you click yes to create a new OSAM file a search for overdue customers will begin.
The next screen that comes up will show the summary of your late accounts. Push ESC after viewing this and the latest customer will come up on the screen. The layout is like the payments screen and you can do most of the things you can do from the payment screen except take payments. The customers will be in order from latest to the least late.
Once the first customer comes up your ready to start working the accounts, this is usually done by calling the customers and putting comments about commitments etc. in the comments field. If you cannot get the customer on the phone you can send them a letter by pushing F9 and selecting which letter to send (See Edit Letters), or you can print a Run Sheet by pushing F5. The Run Sheet will show the customer information, the amount due according to what you have entered on the screen, the next due date's if this amount is paid, the contract information including the model and serial #'s of the merchandise and a partial history. After printing a letter or a Run Sheet the following will automatically be put in comments [L1 today's date] for letter 1 sent out today or [R today's date] for Run Sheet printed today.
To go to the next customer hit PAGE DOWN, to go to the previous customer hit PAGE UP. To find a customer that is in the overdue list hit F3 to list all customers overdue then use the arrows up or down or page down and page up to select the customer then enter to pull this customer up. After working with the customer record you were searching for push PAGE DOWN and you will return to the customer you were on before you went into the list.