Click here for help troubleshooting sending email.
The RTO Pro Sendmail interface can be used to E-Mail reports, receipts, Home Office files or just E-Mails with any attachment you choose or E-Mails without attachments. It can also be used to send form emails to all customers from the customer list report, or overdue customers from the overdue reports screen or the on screen account manager. When sending form emails the email interface will not display, you simply select the form email to send, set the report parameters for what customers to include and then run the report.
When sending individual emails the Sendmail interface will display, instructions for using the SendMail interface are below.
In The recipient textbox you enter the E-mail address that you want to send the E-Mail to, to send to multiple addresses separate each address with a comma. You can also choose an E-mail address from the address book on the top right of the sendmail screen by double clicking an entry.
You can add entries to the phone book that you use often so you don't have to remember the addresses. To add an address click on the add button and enter the name or the store # and the E-Mail address.
Setting up your email account settings
At the bottom left of the Sendmail screen there is a button to edit SMTP settings, these settings can also be found in Store Setup. Click on the Edit Settings button and fill in the required info and then click on Save Settings.
Please note RTO Pro does not provide email service, only the software to send emails, you must have an email service in order to send emails. All Internet Service Providers(ISP's) have outgoing SMTP servers for their clients, so if you have internet access you have an email service already. Contact your ISP for their SMTP server info, or you can use a service such as Google's Gmail (see below for more info). At the time of this writing the free Yahoo, Hotmail / MSN email services do not allow 3rd party software to use their SMTP servers, so these services cannot be used to send email through RTO Pro. CONTACT YOUR EMAIL PROVIDER TO SEE IF THEY WILL ALLOW YOU TO USE THEIR SMTP SERVERS, WE CANNOT ANSWER THESE QUESTIONS FOR YOU.
Also please note almost all email services have a maximum number of emails that they will allow to be sent. Some of them have a maximum per minute, hour or per day, contact your ISP or email provider for more info on their maximums. This is a good article on Gmails limits: http://www.serversmtp.com/en/limits-of-gmail-smtp-server If you need to send hundreds of emails a day you may need to get setup with a paid SMTP service (although there are many free ones that allow you to send thousands of emails a month), search the web for SMTP Service providers to find one. Your ISP (internet service provider) is your best bet for outgoing SMTP server, you should contact them first to see what their limits are and see if they will work for you.
Below is the explanation of each setting:
Sender Name / Store: When you send emails this is what the recipient will see along with your email address, for instance "AAA Rentals [sales@aaarentals.com]".
Your Email Address: This is the address you use to receive E-Mails at your store. When the recipient replies to your email this is where the reply would be sent to.
The settings below depend on who's outgoing email service you are going to use, typically this will be your internet service provider (ISP).
Contact your ISP or your email provider to get this info, WE CANNOT PROVIDE THIS INFO TO YOU, ONLY YOUR EMAIL SERVICE PROVIDER CAN.
Outgoing SMTP server: This is the server to use to send the E-Mails, this would usually be the Outgoing SMTP server of your ISP.
SMTP User Name: If your email provider requires you to use a username and password for outgoing emails enter the user name here.
SMTP Password: If your email provider requires you to use a username and password for outgoing emails enter the password here.
Send Using SSL: If your email provider requires SSL check this box... if you check this box typically the port would have to be entered also.
Email Port: If your email provider requires you to use a specific port enter the port here.
Below is how to setup Gmail's SMTP server to send email. Note some ISP's require you to use their outgoing SMTP server for all outgoing email, if that is the case the settings below will not work. Contact your ISP to get their SMTP information. At the time of this writing Gmail allows other software to use their outgoing SMTP server, they are the only free service that does as of the time of this writing. Yahoo and MSN cannot be used unless you have a paid account with them.
---
Below is how to setup your SMTP if you have a Google Gmail account (they are free).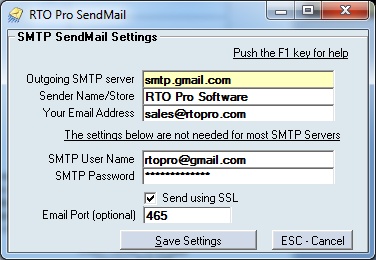 The SMTP user name is your Gmail address and primary login at Gmail. The password would be your Gmail password. To use Googles SMTP you have to check the "Send using SSL" check box and put in port 465.
Please note in 2014 Google enabled security features that prevent you from using their SMTP servers unless you configure your account to allow it, see this page for more info from Google about it: https://support.google.com/mail/answer/78754
---
Using Yahoo! Mail Plus as your outgoing SMTP Server
(Note Yahoo! Mail Plus is not the free Yahoo Mail account, the FREE Yahoo account CANNOT be used by other software to send email)
POP Yahoo! Mail Plus with Another Email Client
Here are the basic server settings for Yahoo! Mail:
Incoming Mail (POP3) Server: plus.pop.mail.yahoo.com (Use SSL, port: 995)
Outgoing Mail (SMTP) Server: plus.smtp.mail.yahoo.com (Use SSL, port: 465, use authentication)
Account Name/Login Name: Your Yahoo! Mail ID (your email address without the "@yahoo.com")
Email Address: Your Yahoo! Mail address (e.g., user@yahoo.com)
Password: Your Yahoo! Mail password
The free Hotmail Mail account cannot be used by other software to send email.
Below is a list of common SMTP addresss, if your ISP isn't listed and you do not know the SMTP for your ISP contact your internet service provider to get the SMTP address. ISP is your "Internet service provider".
Please note this list was compiled in 2007, the info here is probably outdated.
ISP:

SMTP server:

Ameritech DSL

mailhost.chi.ameritech.net

AT&T Broadband

mail.attbi.com

att.net

mailhost.att.net

Comcast

smtp.comcast.net

Compuserv

smtp.cs.com.

or smtp.compuserve.com.

chicagonet.net

mail2.chicagonet.net

concentric.net

smtp.concentric.net

enteract.com

smtp.enteract.com

Earthlink

mail.earthlink.net

Gateway.net

smtp.Gateway.net

interaccess.com

smtp.interaccess.com

smtp.email.msn.com

MindSpring

smtp.mindspring.com

SBC Yahoo DSL

mailhost.chi.ameritech.net
Often the SMTP address is: "mail.yourEmailProvider.com" or "smtp.yourEmailProvider.com" for instance if your email is "mike@testnet.com" then your SMTP address may be "mail.testnet.com" or "smtp.testnet.com".
Troubleshooting Email sending issues
Issue: Email will not send at all through RTO Pro
1. Check your SMTP settings, user name, password and SSL and port requirements for your email provider. Please note we do not provide email service only the means to send email through YOUR email provider, any questions about your email service should be directed to your email provider.
2. Verify you do not have a firewall blocking RTO Pro from sending emails. When sending emails the program "c:\rtowin\RTOProEmail.exe" is the program that sends emails, unless the email is generated through the manual send mail process in RTO Pro then it is sent by the program "c:\rtowin\rto-win.exe". Please make sure you have your firewall and any security configured to allow both of these programs internet access and email access. Note: The "c:\rtowin" is the default installation folder, yours may be different.
Issue: Some emails will send then sometimes they won't or when sending a lot of emails it will stop working.
1. This could be caused by an internet problem, your internet may have gone down intermittently, your email provider's email service may be down at that minute.
2. Your email provider may be blocking you due to going over their limit. Many email providers have maximum emails per second, minute and hour. Contact your email provider about this issue.